"Older Dogs Sale"
"Chloé"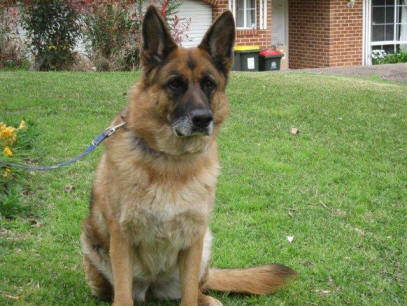 Chloe is an 8 year old beautifully bred girl and she does not look her age.
Her beloved owner is very unwell and she is looking for a new forever home.

Because she was so loved in her previous home she is looking for love again. She would be very happy in a home where she is in the house with her family and be included where practicable in all family activities.
She must be given daily exercise and a good diet. She is not to be a guard dog as she is a bit soft and her bark is not loud.

She would not cope being left in the back yard while everyone is out and frankly she does not deserve that.

We do not know what she is like with children so an adult home would be best.

She is not good with other dogs and we would therefore like her to be the only pet in the family.
She must also have a very experienced owner who has had shepherds recently.

Chloe is currently located in the Hills district of Sydney.
Please contact Carolyn on 0416 262 746 for more information or to see Chloe .
Dogs NSW Membership No: 2000368580

"Puppies and Litters for Sale"
We current do not have any puppies available, however Fran McAdam will be having a litter

For more information
http://www.durnstein.net/Durnstein_litters.htm
0407005990

Carobria puppies are registered, vaccinated, wormed, tattooed, micro chipped, & come with a
comprehensive puppy information folder and ongoing support.
Puppies available from x-rayed and breed surveyed parents raised in a family environment.
Puppies available to suitable homes for show, pet & obedience
Email: Carobria Kennels for more information on our litter.
Mobile: 0416 262 746

Dogs NSW Membership No: 2000368580

Site Map
Home, Bitches, Dogs. Stud Dogs, Puppies and Litters for Sale, Pet Gallery, Contact Us, Links